Medhya Herbals
Pack your daily nutrition with Medhya bites. Delicious healthy foods inspired from AYURVEDA.
100% Natural | FREE from processed sugar | FREE from Additives & Preservatives | Stamina | Immunity | Brainpower | Nutrition | Endurance

Medhya Amalaki Bites Box – 1 Bar / 5 Bars
Unique blend of rejuvenating herbs and wholesome foods to flush toxins out, protect body against ravages of age, repair damaged cells, and support immune system. Beaming with anti-oxidants, Vitamin C & E rich herbs, and whole foods that are dense in fiber, and essential minerals, Medhya Amalaki Bites is an ideal pick-up to restore and nurture your body.

Super nutritious crunchy bites to get a relief from toxin build up and chemicals we consistently come across in our food and environment!
Medhya Brahmi Bites Box – 1 Bar / 5 Bars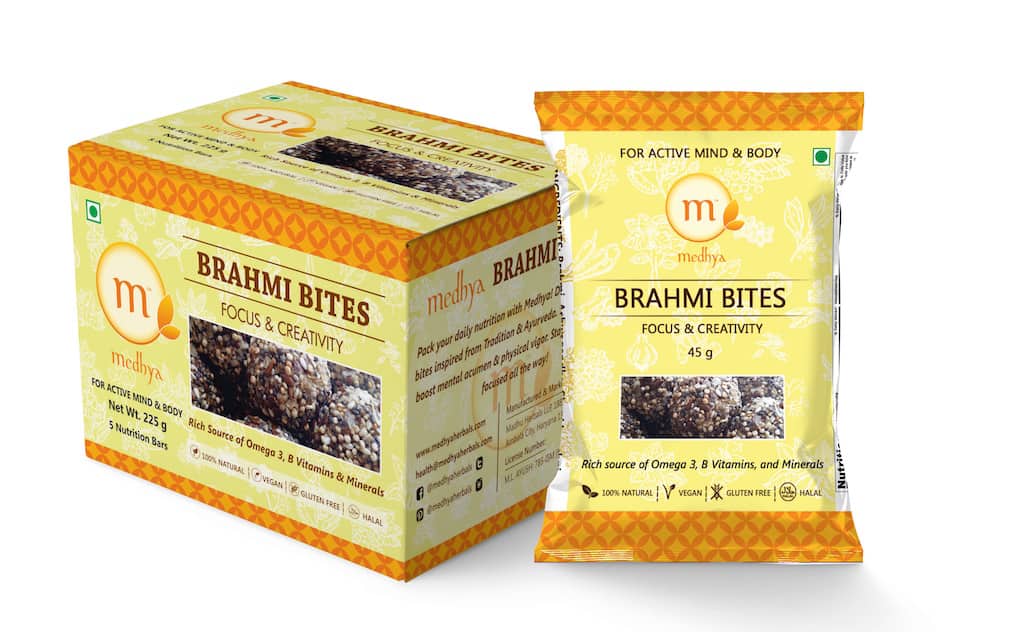 Medhya Brahmi Bites is a natural nervine tonic to boost cognitive abilities, support memory function, and sharpen focus! It promotes healthy cell generation and improve circulation to brain with a unique blend of deeply nourishing foods & herbs.

Beaming with Omega 3s, antioxidants, and B Vitamins; Brahmi Bites is ideal to protect brain from ageing and oxidative damage! A super delicious crunchy bite that would satiate your hunger, cravings, and fuel creativity!
Medhya Almond Fig Bites Box – 1 Bar / 5 Bars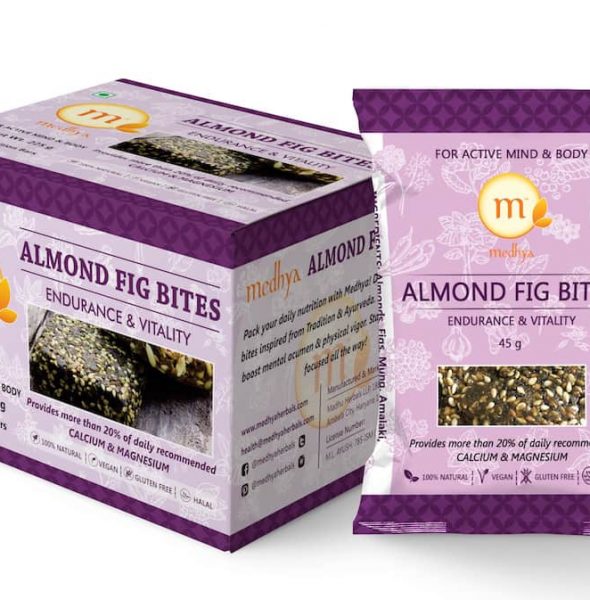 A master blend of micronutrients dense foods; Almond Fig Bites provides more than 20% of daily recommended CALCIUM & MAGNESIUM. Activates body's energy systems, increases capacity to combat fatigue & stress, and improves overall balance. Rich source of anti-oxidants to help protect tissues from injury.

A synergy blend with all essential ingredients to nurture both mind & body. Start your mornings with Almond Fig Bites for a fruitful day beaming with creative juices and endurance to last long hours.
Medhya Moringa Choco Bites Box - 1 Bar / 5 Bars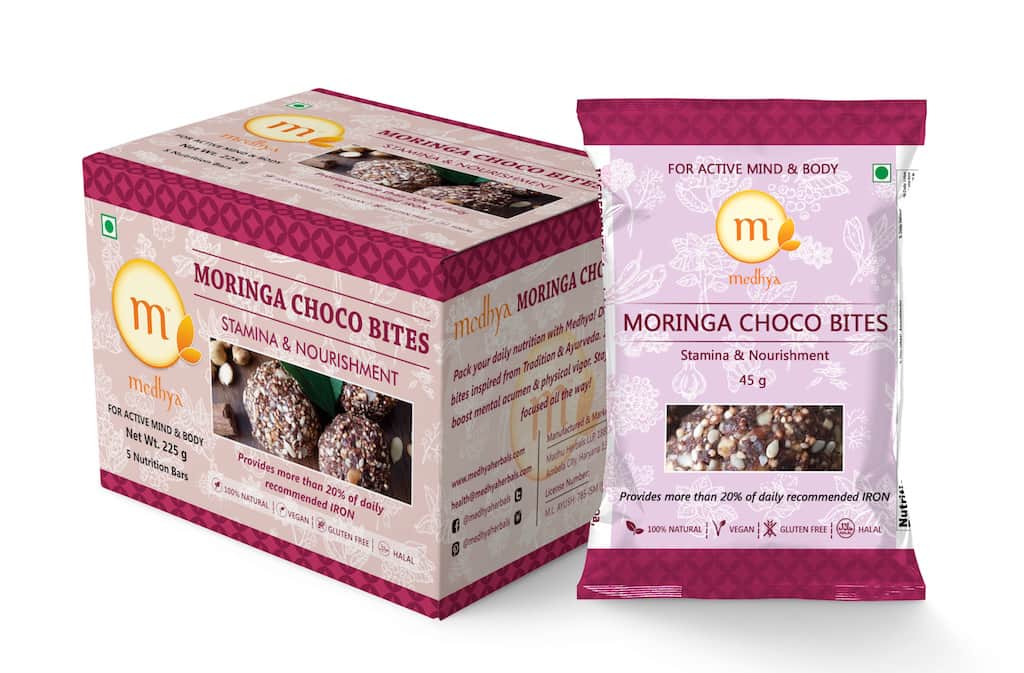 Naturally fight fatigue, get more than 20% of daily recommended IRON, and enjoy high stamina level with Moringa Choco Bites! A unique blend of Vitamin C rich herbs and nutrient dense foods, it helps boost protein metabolism and supports significantly high absorption of minerals.

Packed with B Vitamins and Zinc for high endurance during workouts and for a busy day, Moringa Choco Bites is an ideal pick up to ensure sustained energy levels. Time to say goodbye to caffeine, protein powders, and sugar laden snacks!
Medhya Bites Assortment Box - 5 Nutrition Bars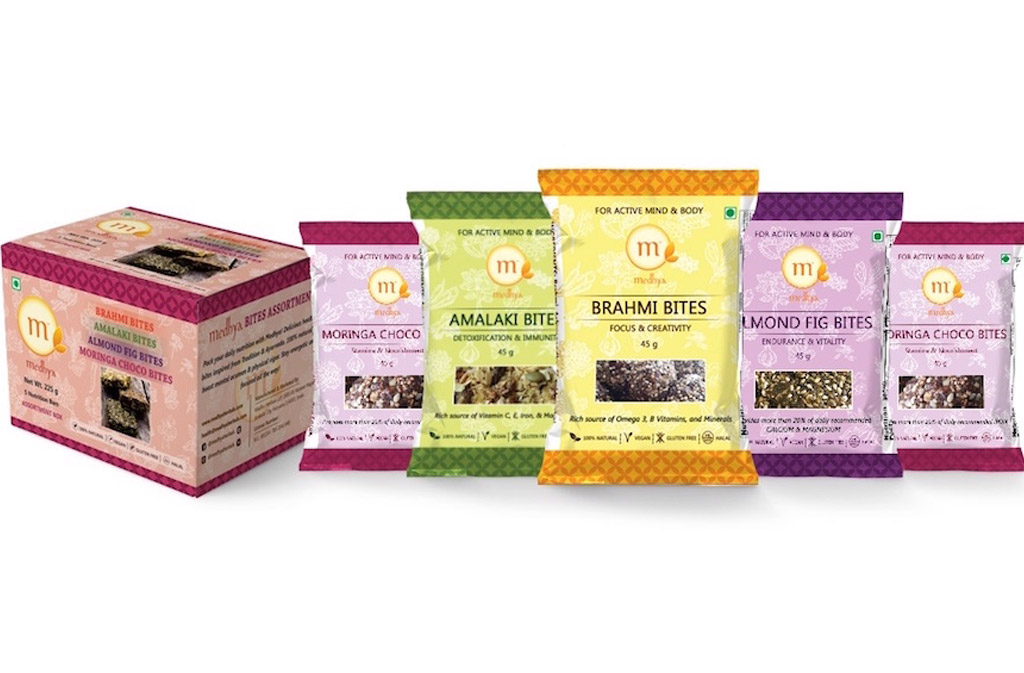 An all-in-one pack with the goodness of Medhya's super nutritious bites customised to your choice! Whether you want to try them all for yourself or looking for a cute bundle of health, this delectable & delicious pack would surely set new expectations of healthy eating.

An assortment box comes with 5 Medhya super nutritious bites, selection of which can either be customised or you can simply go with our signature mix bringing you the best of all 4. Keep surprising your taste buds each day with a new flavour from Ayurveda!
Medhya Amalaki
A powerful rejuvenator, natural digestive and richest source of Vitamin C in the plant world. Amalaki (Indian Gooseberry) is a yellow-green superfruit, revered to support digestion and immune system, for beautiful skin and hair, and excellent eyesight. Medhya original Amalaki is dried Amalaki fruit blended with rejuvenating spice mix, imparting finger-licking taste that even kids can't resist.

A wonderful natural chewy that would build up your health inside out!
Click here to know more about Medhya Herbals