Tanya Agarwal

Tanya Agarwal, a mother of 2 kids, an active yogini for 7 years and a runner since October 2014.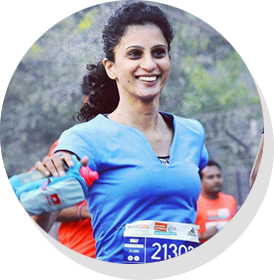 A passionate fitness propagator, she runs her motivational and fitness blog by the name of www.wellthyfit.com. It is her venture into making fitness an unmissable part of everyone's life. She blogs on workout ideas, running tips, motivation, expert interviews, travel, adventure, joy and life. Her blog is now a platform for accomplished runners and fitness enthusiasts who write and share their running and fitness expertise and experiences. Recently Tanya launched her YouTube channel where she guides people with her yoga workouts.

She has been a podium finisher at various runs and was awarded the title of Guiding Light by the NCR Running Community for her passionate work in the field of fitness. She spreads her love for Yoga by conducting yoga events in the NCR area. She holds a post graduate diploma in Management and coaches students for international exams.
Click here to know more about Tanya Agarwal